A success story: Trans Isole, from forerunners of intermodal transport to role model in sustainable logistics.
We are specialists in road transportation and maritime intermodal, logistics and distribution of all types of goods throughout Europe.
Transisole is the brand that represents , for two generations , the family Spighetto.
The unceasing efforts of Spighetto family, huge investments in both human and technical resources, led us to a profitable and unrestrainable expansion in the market. After reaching a large success in Italy, thanks to its organisation and dimensions, is now capable of offering vast and various ranges of services in the transportation.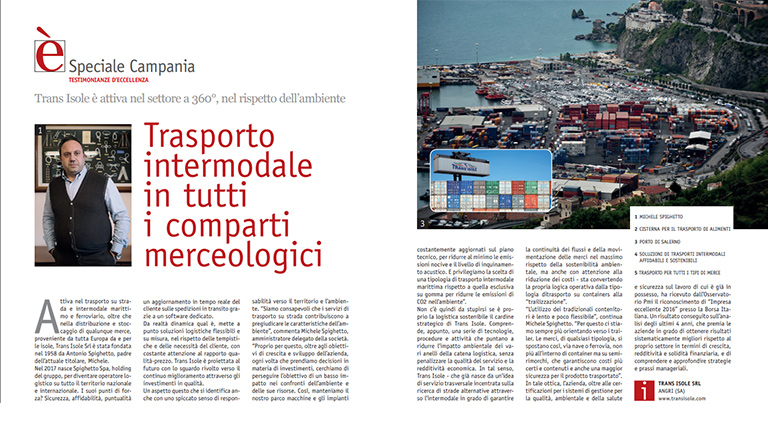 We work hard to satisfy all client's needs and ensure high standards.
Covering a variety of merchandise from fresh and dry food to ADR, up to the transport of dangerous goods, waste, ADR, and the exceptional transport and special.
From small package to full container.
An impeccable organization with a human face.
The family-run establishment and dynamism managerial guarantee high professionalism, short delivery times, punctuality and maximum safety in the treatment of goods.
The operational center is located at Angri, in the province of Salerno, in the heart of the manufacturing district Nocera – Gragnano and strategically placed between the ports of Naples and Salerno. Here you will find a fleet of transport constantly evolving and constantly available.